BusMe
Overview:
BusMe is an Apple Watch app for the Puget Sound that provides realtime bus departure information at a glance.
Results:
Launching with the Apple Watch, the app is one of our companies first two Apple Watch applications. BusMe empowers Apple Watch users to quickly check their next bus departure based on their location.


Role:
UX Design, Wireframes, Development (Swift), Product Management, Testing
Download on the App Store

Inception

The initial app concept came out of numerous brainstorming sessions with colleagues about what would be a useful application to be on a Watch. We identified various routine tasks that could be improved by having information readily available without having to fidget with a more involved computing device.

I investigated the feasibility of extending the public transit data to determine if the available data would be conducive for an Watch application's needs. I then researched the known Watch SDK documentation and began prototyping an iPhone application that would lay the foundation for the Watch application.

Throughout development, I worked with UX colleagues on creating a acceptable user journey that fit within the constraints of the new Watch UI paradigm, the limitations of how Watch apps were allowed to function, and the data structure of the realtime bus schedule API.

Review

After the general functionality requirements had been identified, and the limitations of the device and API had been hashed out, I diagramed with our UX lead on a whiteboard to make sure we captured all paths a user could take on the Watch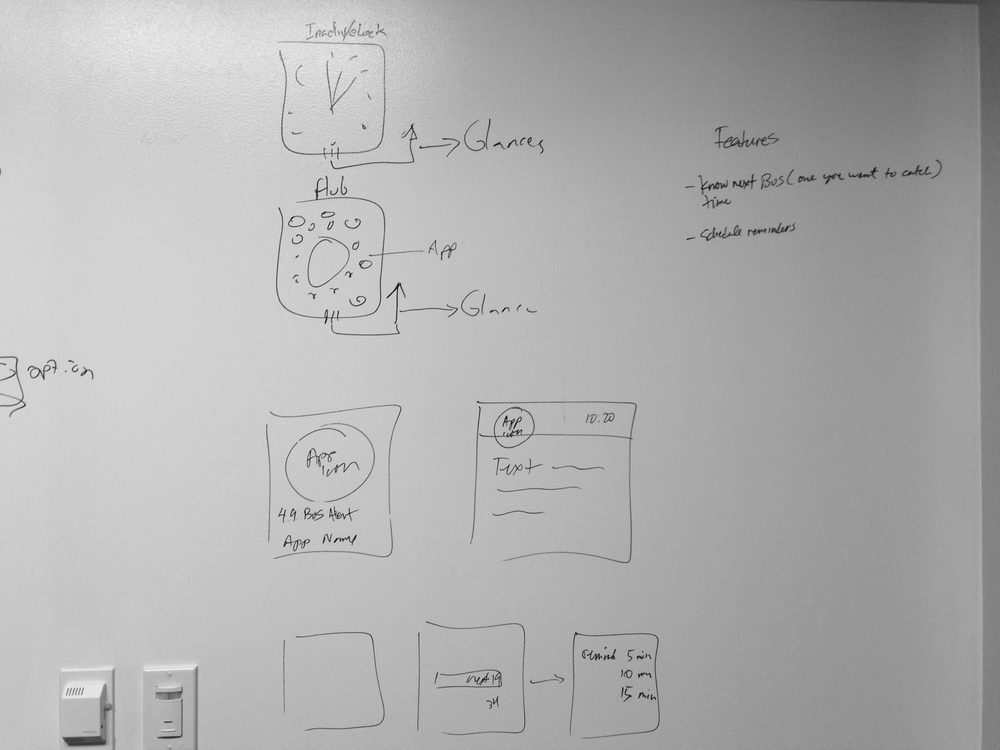 Build

With this information, I constructed flows using Xcode's Interface Builder and developed an iOS Application (in Swift) that presented the departure information in the most contextually relevant way by using the user's current location and calculating the distance and "walk time" to the bus stop.

Process

Real world testing of the Watch portion of the app needed a substitute as this was designed and built prior to the device's launch. I made use of the Today View extension in order to partially allow testing of 'glance' like viewings of bus departure data without having to unlock a device and find an app. For UI review, I used XScope, XScope Mirror, and Bezel to mirror the Simulator Watch screen to an iPhone at proper scaling to be able to visibly see how elements looked at 'wrist distance'.

User testing provided insights into what additional use cases the app would be expected to handle. Originally the scope of the 'Nearest Stop' departure was defined to list to show information only for one stop, but after testing in various commuter scenarios revealed the need for access to other bus stop departures, I broadened the feature to allow for toggling between other saved stops as users may have a number of departures to look at.

The entire application bundle includes:

BusMe iPhone App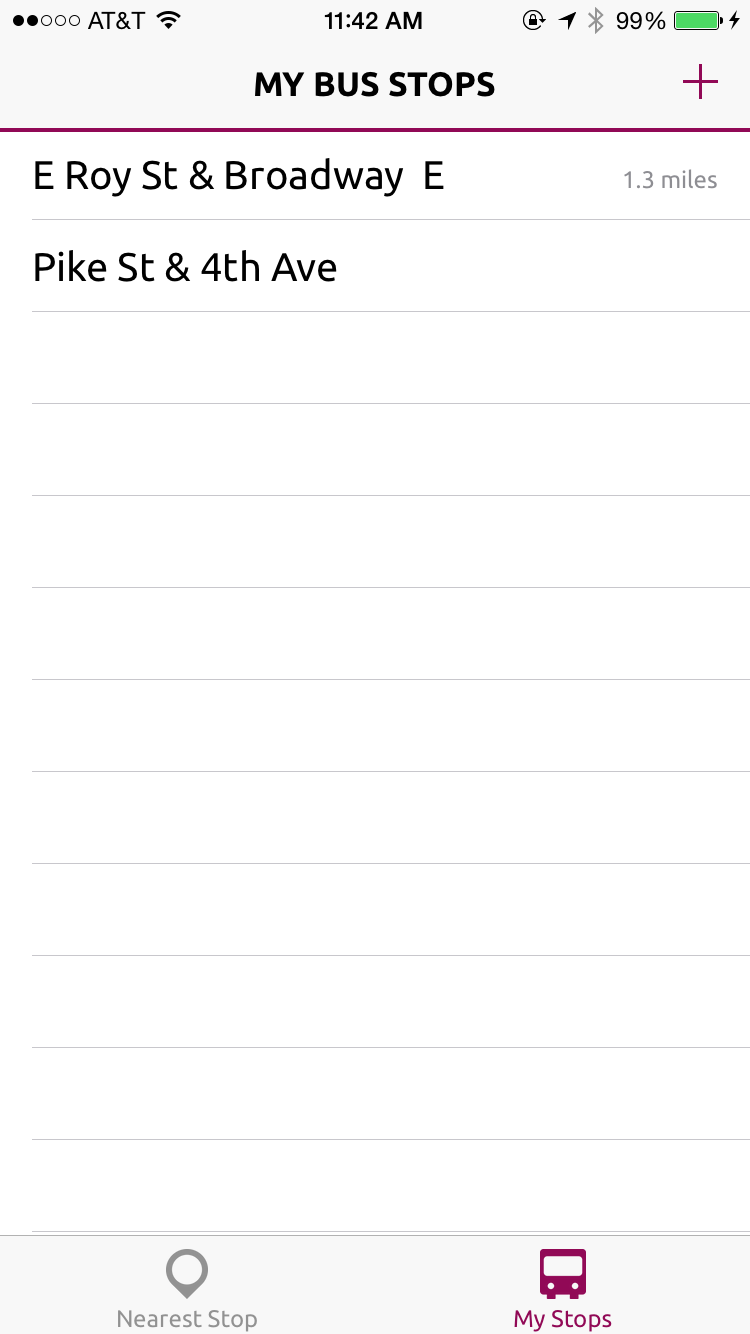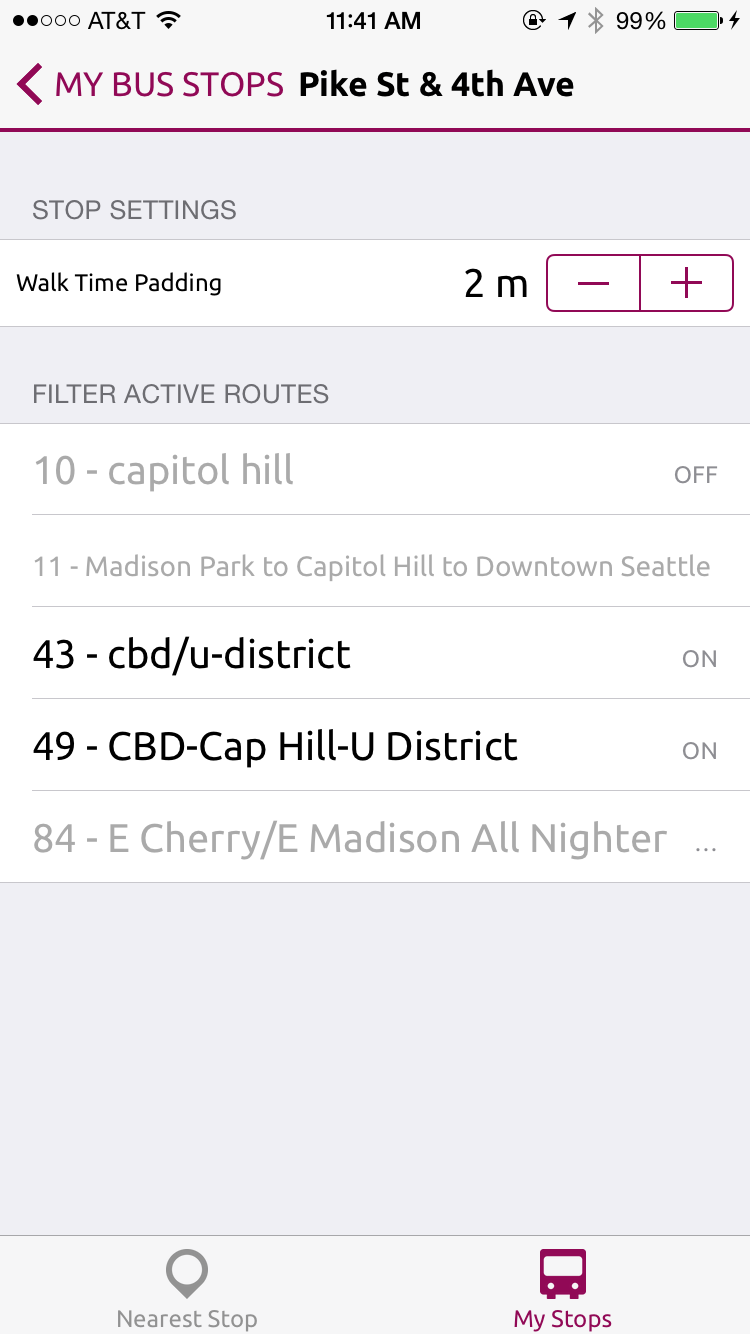 Features unique to the iPhone application interface are:


Primary focus on nearest "Favorite" bus stops:

On application launch, BusMe determines which of the user's favorite bus stops is nearest and will present departure information for this bus stop. Users can add as many stops as they would like and BusMe will determine which is likely going to be the next used prioritized by closest distance to the user.


Browse other "Favorite" bus stops

The user is also able to swipe to view departures for other bus stops to allow for review of upcoming departures, viewing of distance and current walk time.


The user can filter routes that they do not take that also depart from their favorite bus stop so as to only see departure information that is relevant for them.


While the application calculates the distance to walk to a bus stop from their current location, users are able to augment this calculation with additional minutes of time to make of for any regular time additions in their daily routine (e.g. taking the elevator down from work, walking out of their apartment and crossing a few stoplights.)

BusMe Today-View Extension



The Today-View Extension provides all iPhone users the ability to check for their next bus departure without having to unlock their phone and open an application. The extension uses the favorited bus stops, the walk time padding denoted above, and the users current location to present this information.
The Today-View for BusMe shows the nearest "Favorite" bus stop departures and the walking distance to the stop.
BusMe Apple Watch App
The Watch app enables users to check for their next bus departure without having to take out their phone. The watch app provides both a full application UI and a Apple Watch Glance UI for the added ability to swipe up from the home screen to see bus departure information.